Details

Hits: 9743
The product of a musical crossroads, a border, a meeting place between very different cultures, but dominated by jazz and flamenco, the career of Carles Benavent began in a watershed year for Europe, 1968, in the popular and endearing Barcelonan neighborhood of Poble Sec when, at the tender age of 13, he formed his first group, Crack, which in 1970 became Máquina!. From an explosive clash to the perfectly-oiled machinery of teamwork.
Five years later, together with Joan Albert Amargós, he founded Música Urbana, Spain's flagship of jazz-fusion.
Starting in the late 70's, appearing in various groupings throughout the country, his name began to figure alongside those of the most distinguished musicians on the Spanish jazz scene, such as Kitflus Tito Duarte and Max Sunyer, with whom he formed a trio filled out by Salvador Niebla.
In 1980, upon joining Paco de Lucía's group, a relationship that would last more than 20 years, he earned the nickname "La Garza Flamenca" and the legendary "Sextet" was born. He toured throughout Europe, America and Japan, sharing the stage with such greats as Jorge Pardo, Rubem Dantas and Ramón de Algeciras, among numerous others. This marked the beginning of his prolific collaborative discography with flamenco artists, including Paco de Lucía, himself, as well as another legendary name: Camarón de la Isla.


In 1982, he embarked on his first two international tours with another A-lister: Chick Corea. Between that same year and the next, they recorded two albums together: Touchtone y Again and Again.
His first solo album, the self-titled Carles Benavent, appeared the following year in 1983.
In 1990, he was invited to participate in a special concert on Swiss television, along with Jorge Pardo, the pianist Gil Goldstein, Don Alias and Alex Acuña.
On the heels of this appearance, the group performed in New York and recorded an album for the company Blue Note. From that point on, Goldstein would be featured regularly on Benavent's albums.

In 1991, he played with Miles Davis in the Montreux Jazz Festival in a tribute to Gil Evans directed by Quincy Jones. The concert was recorded in yet another album: Live in Montreux.


In 1992, he took part in the project Jazzpaña, with Cologne's WDR Big Band under the direction of Arif Mardin and Vince Mendoza.


In 1995, after his fourth album,Aguita que Corre, he suffered a serious traffic accident that kept him from performing for a full year.

In 1996, his iron will, but most of all his boundless passion for his music, returned him to the stage with Paco de Lucía; he reappeared with a new group in the Getxo Jazz Festival and recorded his fifth album with a title that reaffirmed his desire to remain in the thick of things: Fénix.

In 1998, the Benavent, Pardo, Di Geraldo Trio, one of whose performances, El concierto de Sevilla, would also become the group's first album.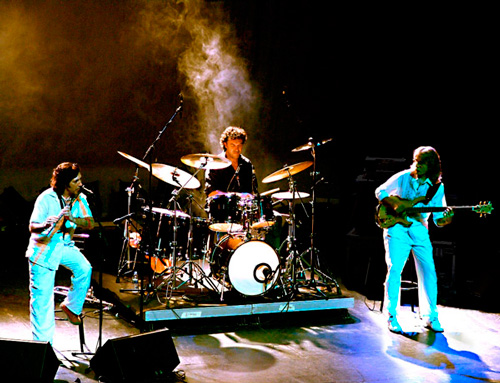 Trío Benavent, Pardo, Di Geraldo
In 2000, he toured England with the Don Alias Birthday Tribute, along with Gil Goldstein, Alex Acuña, Jovanny Hidalgo, Steve Barrios, Michael and Randy Brecker, and Don Alias, himself. As always, talent and friendship were the hallmarks.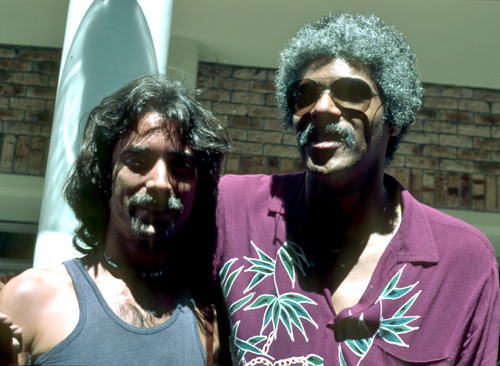 Don Alias
In 2002, he came out with his seventh album: Aigua.
In 2003, luthier Jerzy Drozd designed a new instrument especially for him: a semi-acoustic bass that Carles christened "Barcelona". This same Barcelona, as if it were an extension of his creativity, has remained his faithful companion up to the present day.
In 2004, he once again collaborated with Corea in Chick Corea & Touchstone.
That same year, the city of Barcelona welcomed him as Benavent 3 Tríos:
& Jordi Bonell - Roger Blavia
& Goldstein - Jordi Rossy
& Jorge Pardo - Tino di Geraldo
with the additional collaboration of Othello Molineux
Together with Jorge and Tino, he recorded a new album: Sin Precedentes.
In 2005, he took part in the recording of Chick Corea's album The Ultimate Adventure
In 2009, he recorded Quartet. with Jordi Bonell, Ravid Goldschmidt and Roger Blavia.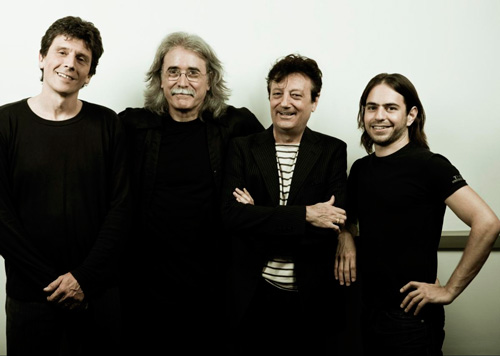 Carles Benavent Quartet
In 2011, he edited his latest album Un, dos, tres...; with pianist Roger Mas and percussionist Roger Blavia.