Details

Hits: 3258
Every contemporary flamenco music aficionado is aware of the significance of Agüita que corre, the album by Carles Benavent released on the Nuevos Medios label seventeen years ago. This flowing water is enriched all along the way towards an ever distant sea by the creative work of them who bathe in it. Now, guitarist and composer Joan Sanmartí, always on the search for new textures of sound, returns to Agüita by adding a string quartet to some ot its beautiful tracks, a cornerstone for what will become the Carles Benavent Ensemble.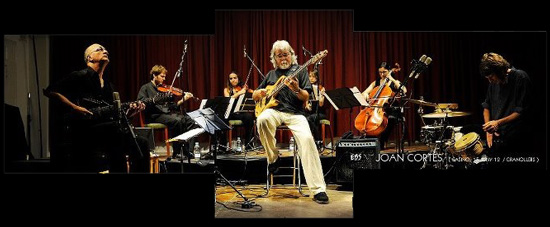 Carles Benavent Ensemble
Arrangement: Joan Sanmartí
Carles Benavent , electric bass
Roger Blavia, percussion
Joan Sanmarti, guitar, guitar-sitar
Daniel Cubero, violin
Carlota Amargos, violin
Uixi Amargos, viola
Laia Puig, violoncello
You can also find this video on DEL MAR ARTISTS YouTube channel
Find dates and more information about upcoming Carles benavent Ensemble concerts on CARLES BENAVENT CONCERTS SCHEDULE.